BREAKING: Sri Lankan team members injured in Pakistan after a shoot-out on the way to stadium
Our beloved Sri Lankan cricket team has been attacked in Pakistan en route to their stadium in Lahore.
Masked gunman have opened fire on the Sri Lankan cricket team's bus in Pakistan's eastern city of Lahore, killing at least eight people and wounding six players, officials say.

Lahore police chief Habib-ur Rehman said 12 gunmen on Tuesday attacked the convoy near Lahore's Gaddafi stadium with rockets, hand grenades and automatic weapons and were involved in a 25-minute shoot-out with the security forces.

"They appeared to be well-trained terrorists. They came on rickshaws," he told reporters.
Not sure if that was a small joke but its no laughing matter.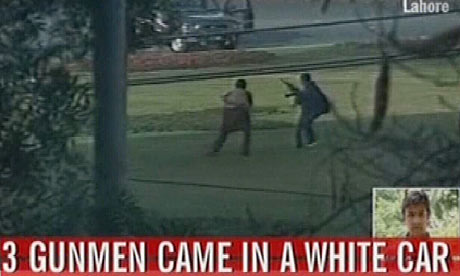 Video from Reuters is available here. Thus far its known that the following players are injured:
From The Guardian article:
The attack, in Gulberg, a upmarket area of the city, happened around 9am local time. The gunmen remain at large, having fled from the scene.

Police cordoned off the area, saying they would kill or capture the terrorists. The team had been travelling towards the nearby cricket stadium.

The top policeman in Lahore city force, Habibur Rehman, said that there were around 12 gunmen, at least some of whom arrived in auto-rickshaws.

"Because the police were protecting them (Sri Lankan team), we were the main victims," said Rehman. "They (the gunmen) looked like trained people. The security provided was good."

A rocket launcher and grenades were recovered from the scene. The Sri Lankan team, which was playing a test match against Pakistan in Lahore, is to be evacuated immediately.

"This was a planned terrorist attack. They had heavy weapons," said Salman Taseer, who heads the provincial government as Governor of Punjab, arriving at the scene. "These were the same methods and the same sort of people as hit Mumbai."
From the Reuters Article:
The group blamed by India, Lashkar-e-Taiba, came from Pakistan's Punjab province, whose capital is Lahore.

Pakistani stocks were down over 2.47 percent in early trade on Tuesday following the attack on the cricket team bus.

The Karachi Stock Exchange benchmark 100-share index was 2.47 percent, or 140.22 points, lower at 5,541.022 on turnover of 16.8 million shares by 10:40 a.m. local time (12:40 a.m. EST).

"This is not only an attack on the Sri Lankan team but on Pakistan as Pakistan is being put in isolation due to these attacks," said Shuja Rizvi, director broking at Capital One Equities Ltd. "Who would want to invest then in Pakistan?"
What is the world coming to 🙁