Well its been a while since I last posted, but I'm still here. Infact I've just realised that xkcd has stolen my plans for world domination.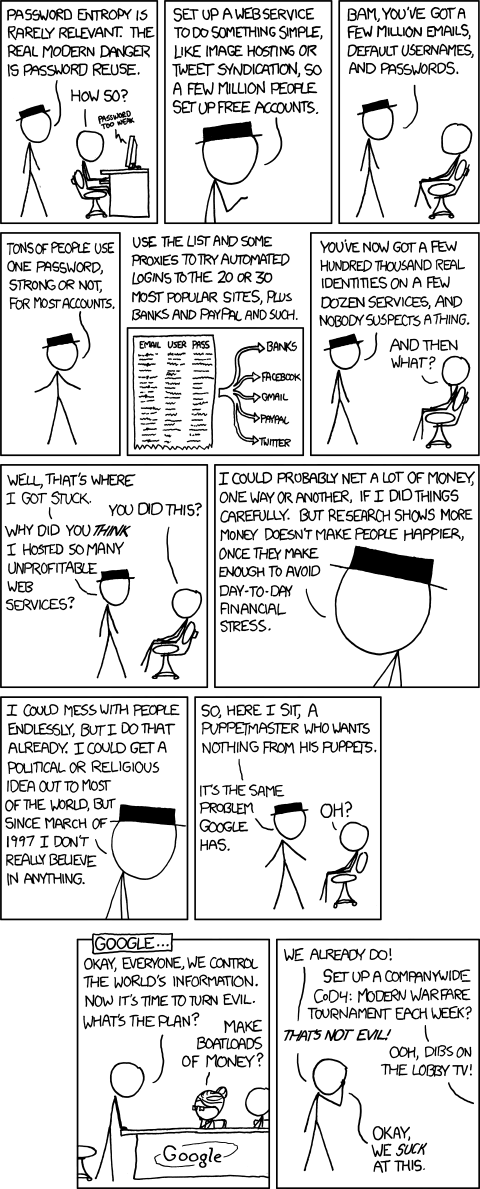 I'm only kidding, what would I do with all that information? I have enough princes offering me the opportunity to help them move money out of West Africa! Alas, OpenSolaris is now dead (RIP dear friend), we're eagerly awaiting word of OpenIndiana and The Illumos Project to see where things are going to go. The Android momentum has picked up and Windows Phone 7 is just around the corner!
I've also changed my jobs and now I'm working for Readify as a Senior Developer. A company full of talented bright people (the author of Autofac or Paul Stovel of Magellan fame for instance) & skills in so many different areas I'm ashamed to be even be seen in the office – which is a great thing because we're a mobile office (some day!). You might even see me at a few local Australian developer events now and I'll be sure to advertise them when I come across any.
Essentially, its back to the days of being more involved with the developer community, times have changed since Developerfusion (for one, we have StackOverflow) and getting into up and coming technology – which this time around is Windows Phone 7. So I'll be starting a series of posts on Windows Phone 7 as well as Android soon.